It's always there, behind the walls, behind the windows, behind your eyes. All my childhood life it had been the soundtrack, but only in revisiting do I hear it.
The wind...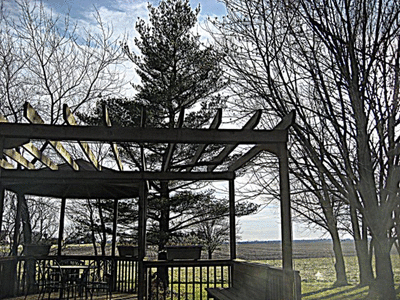 ...is constant in the middle of Illinois where my parents live, where I grew up.
"It's really windy today," I say, looking out the window on the first day of my visit.
"This is normal," my mom says.
I'm writing this from my home in Georgia, where I've gotten used to the still air, the slight breezes—a blessing in winter, bane in summer. When it's windy, we know a big storm is coming, or it's already upon us.
In my hometown it's as if the land has been scoured flat and mostly treeless by the wind, a constant force like running water, a constant sound like the whirring of a great fan. Or is it the other way around? Is it the topography that allows the wind to ride roughshod?
What is too familiar becomes unnoticed, forgotten:
Howl becomes the sound of silence
love becomes coexistence
faith becomes duty
feelings become facts
prejudice becomes certainty
sacrifice becomes expected
Now I notice the stillness outside my window as much as I noticed the wind. I think this is what being constantly present must be like.
Presta atención
, lend attention, look and see, listen and hear. Know by experience rather than by assumption. Act by intention rather than habit. Go against your own grain sometimes.
And may you never get used to the howl of the wind.